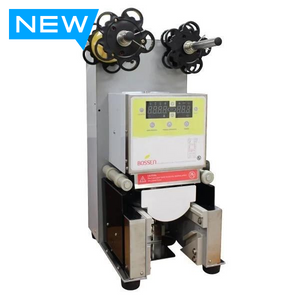 Bubble Tea Cup Sealing Film Machine (Automatic) for 95mm PP Cups (UL Certified)
$3,19900

$3,199.00
Free shipping for orders over $199. $25 for orders under $199.
---
---
Bubble Tea Cup Sealing Film Machine (Automatic) for 95mm PP Cups (UL Certified) Free Shipping Within Canada


Why mess with lids? Use our UL and NSF Certified sealing machines for your bubble tea cups and other cold beverages.  
This sealing machine creates airtight seals for 95mm PP cups. Featuring adjustable cup size holder, customizable settings for time and manual/automatic, plus easy to interchange sealing film holders. 
* Easy to use interface
* Automatic or Manual Operation
* Customize sealing temperature
* Automatic counter for sealing films used
* Simple to clean
* Fast heating system
* Durable, long-lasting for store usage
* UL and NSF certified
* Dimensions: Length: 14.75" / Width: 17.25" / Height: 24.5"
* Gross Weight: 66 lbs
* Power: 110V
* Sealing Rate: 450 cups / hour  

Please note: Upon order, this product is fulfilled and shipped directly to you by the manufacturer or its authorized distributors generally within 15 business days.  All service, support and warranties are provided by the manufacturer or its authorized distributors.