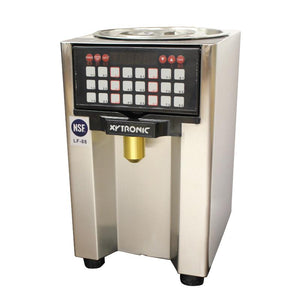 Bubble Tea Fructose Dispenser
$1,99500

$1,995.00
Free shipping for orders over $199. $25 for orders under $199.
---
---
Bubble Tea Fructose Dispenser (24 Keys)
Our Fructose Dispenser is a must-have for busy stores with lots of drinks on the menu! Customize your fructose servings, great for bubble teas, fruit drinks, and more so you can give customers the option of 25%, 50%, or 75% sugar! Up to 24 programmable keys and an easy to use interface. Space-saving size for the counter works smoothly and quickly.

Why get our Bubble Tea Fructose Dispenser?

BENEFITS:

* Dispense your sweetener of choice at the push of a button

* More accurate measurements than before

* 24 Programmable Keys to custom for different drinks

* Set 1 ml increments for sweetener levels

* Capacity: 8500cc
 This item is shipped directly by the manufacturer to you.  Please allow 10 business days for shipping.  Thank you.